General services
There are a number of general tasks that are essential to you or your loved one's day that you might find easier with our assistance to keep you living independently.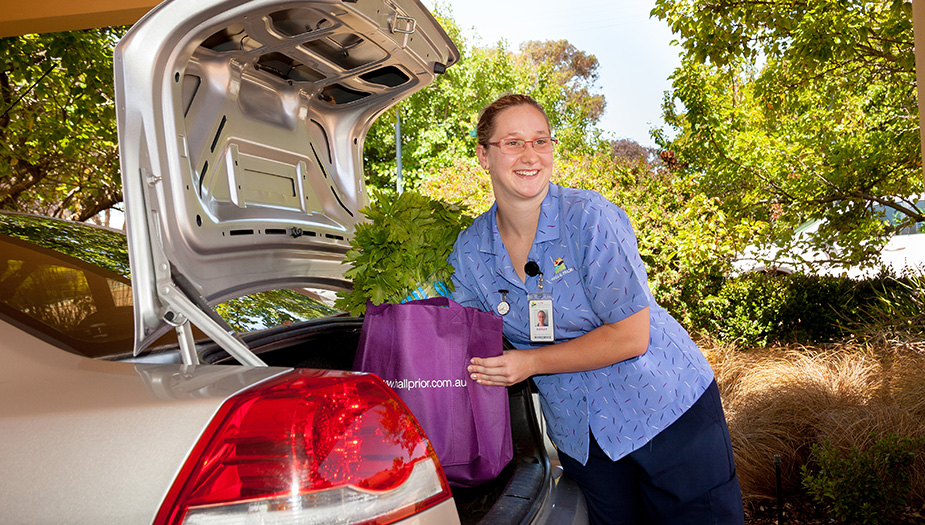 Bathing, dressing and grooming
Hanging out or bringing in your washing
Cleaning, vacuuming and tidying
Preparing meals with you
Mobility and communication
Reminding you to take your tablets
Delivering our meals to your home
Laundry service picked up and dropped off to your home
We can arrange general support services this for you anytime as part of a program, such as a home care package, or as a private service we can arrange on a one-off or ongoing basis.
What to expect for services in your home
We will ensure that we understand the activities that you need assistance with and how we can best work together to enable you to do as much as you can independently and only assist you to the level that you would like. Every person is different, which is why every appointment we have for general services is different too. We will enable you to do what you can.

When we arrive, we will introduce ourselves and ensure that you know what we are there to do - and are flexible if you have a different idea for what you would like.

We will talk to you throughout the visit to ensure that you know what we are doing at all times and listen to any feedback that you have about how we can better support you.
Our meals
Some of our most popular services are our meals, and some clients have chosen us on the basis of this alone.
Our meals are chef-prepared in our kitchen at Clarence Estate and then delivered to you as often as you wish. We can deliver a few meals for you in bulk, or bring one with us each day to warm and serve for you at lunchtime. We can cater to modified diets if you need to have your food in softer consistencies to keep you safe with meals.
You do not have to commit to having meals delivered every week, and maybe try us out with a few meals to have ready in your freezer for evenings when you do not wish to cook.
Laundry services
Our laundry service can collect, wash and press your laundry as often as you wish and return that to with your next service. Some people choose to do this on a weekly basis for all their clothing, while others will ask us to wash their sheets, towels and linens. The choice is yours.
Home maintenance, gardening, and technology
Home maintenance and gardening, home modifications, and assistance with using technology are popular general services that we offer.
To give a bit more information on the wide range of options that might interest you, we have put lots of examples of things you might choose for these services on their own pages. Have a read through these, and let us know if you have any different ideas of your own that might work for you.
We keep you comfortable
An important daily task that many of our clients ask for assistance with is showering which may mean different things to different people.
You might like to have a support worker in your house with you while you shower in case you slip or fall, but prefer not to have direct assistance with showering itself. In that case, your support worker may use that time to get your clothes ready for you or prepare your breakfast. This means you can feel safe because someone is there, but on your own terms.
If you need assistance with showering, then we will be sure that you receive the level of support that you want and that you are comfortable with. We will be guided at all times by how you feel and the agreed approach and ensure that we respect your privacy.
You might change your mind and not want much support one day, or the next day you might want a lot more direct support – we will be completely flexible to your wishes and respect how you feel that day.
Our support workers will do their best to make you feel safe, secure and at ease at all times, and will ensure that you feel your privacy is respected.
How to arrange general services
Private services
You can arrange general services from us at any time as a service that you purchase privately. We charge an hourly rate, book in blocks of fifteen minutes, and can arrange this as you need it or as part of a structured program you would like us to plan for you.

You do not need to commit to a contract or a minimum number of visits, and can adjust your services at any time.

You can discuss your options with us at any time.
Home care package clients
If you have a home care package, you are able to get general services from us at anytime using the funds available from your package. If you are an existing client of ours we can arrange this through your current support plan.

If your package is managed by yourself or by another provider, then you can contact us to arrange general services for you and we will invoice you or your provider as you wish.
Other providers
We can broker our general services to clients of other providers in a coordinated and seamless way and bill you monthly. We are compliant with all regulatory requirements and can do this as a service agreement or on a client-by-client basis. This may work for you if you live outside of a larger town and may wish to have your regular carers backed up by staff that we have that live in your region.

Contact us to discuss how you can get started with general services